Startups Will Trigger Growth, Employment In MP: CM Shivraj Singh Chouhan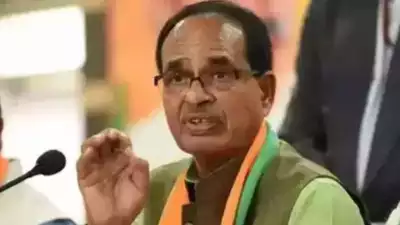 BHOPAL: Chief minister Shivraj Singh Chouhan said that the talent of the state's youth associated with start-ups will be used in the interest of the state. "These successful entrepreneurs will prepare other youth like themselves to start their own businesses. The suggestions received from other youths, including successful youths associated with start-ups, will be the outline for formulating the youth policy of the state. The youth policy of the state will be well-planned. Important suggestions will be incorporated before finalising it. This policy was to be announced this month, but it will be brought out in the month of February," he said.
The chief minister said that youth are also enthusiastic about 'Pravasi Bharatiya Diwas' (PBD) and Global Investors' Summit (GIS). "Youth are participating in these programmes in large numbers. The talents of the state will not be suppressed. GIS will have the task of preparing skilled human resources by assessing the potential investment in various sectors. Imparting training to the youth by industrial institutions will be considered. About 2,600 start-ups are registered in the state. Also, more than 40 incubators are working. The start-up policy of the state has brought about good results in 11 months. More than one thousand start-ups are being led by women. Assistance to start-ups has also been approved in the new policy," he said.
Chouhan said that work to develop industrial parks in Jabalpur and Indore, increase co-operation of charitable institutions in the field of education, increase branding & export of state's special products and millets along with connecting farmers with natural farming progressively. "Various measures will be implemented for the personality development of the youth. Youth will get employment due to the construction of the super corridor and investment in various sectors in abundance," he said.
The chief minister held discussion with many successful youths who are associated with start-ups in various fields, including Anubhav Dubey, Anand Nayak, Rahul Patidar of Chai-Sutta Bar, Tanutejas Saraswat of Kirana Shop, Narendra Sen of Rack Bank, Abhishek Dubey of Muskaan Dream, Mayank Pratap Singh and Aditi Chaurasia of Super Sourcing and Kunal of K Star.
Chouhan also interacted with Kunal, a successful businessman in California, on video call. Chief Minister Shivraj Singh Chouhan carefully listened to the views and suggestions of these young entrepreneurs.
Source: https://timesofindia.indiatimes.com/city/bhopal/startups-will-trigger-growth-employment-in-mp-cm-shivraj-singh-chouhan/articleshow/96824959.cms?from=mdr