INDORE DEVELOPMENT AUTHORITY TO CONSTRUCT SUPER CORRIDOR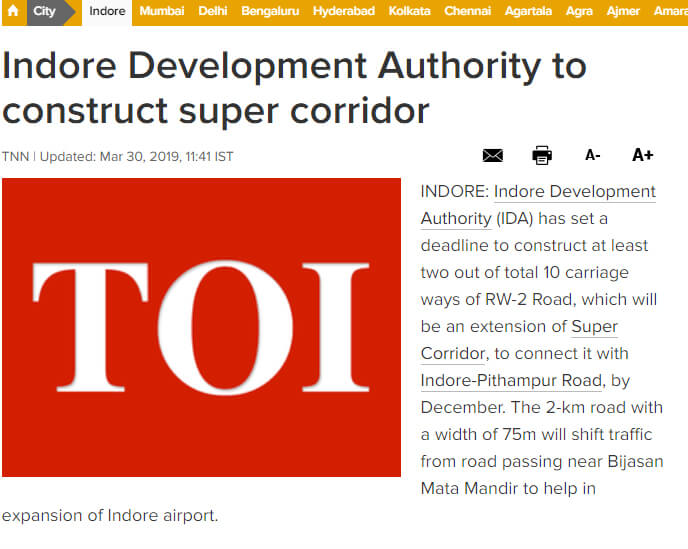 INDORE: Indore Development Authority (IDA) has set a deadline to construct at least two out of total 10 carriage ways of RW-2 Road, which will be an extension of Super Corridor, to connect it with Indore-Pithampur Road, by December. The 2-km road with a width of 75m will shift traffic from road passing near Bijasan Mata Mandir to help in expansion of Indore airport.
"After IDA board gave administrative approval of Rs 30 crore for the proposed RW-2 in February, contract has been assigned to a firm. The work, which could not be started due to implementation of model code of conduct, will be started after elections. We have decided to construct at least two out of total 10 carriage ways (including two service lane) of this route by end of this calendar year," IDA CEO Vivek Kshotriya told TOI.
He added that after starting traffic on RW-2 that will connect Super Corridor with Indore-Pithampur route, authorities will shut road passing Bijasan Mata Mandir as it's a part of around 20-acre land provided to Indore airport for expansion, which was facing obstacles due to non-availability of an alternative route to divert traffic.
"After starting traffic at RW-2 Road, expansion of Indore airport at the land assigned next Bijasan Mata Mandir can also be started," Kshotriya said.
IDA has proposed a resident project – Scheme 172 alongside RW-2 in around 135 hectare and of this, around 35 hectare is to be acquired from around 200 farmers. Besides, some portion of private land will be needed for developing proposed 2-km long road.
"As per policy, farmers will be given around 30 per cent of developed land along with benefits of floor area ratio of 1:2. Many farmers have showed interest in giving their land. We are hopeful to get agreements signed with in next around two months" the CEO said.
Source :
https://timesofindia.indiatimes.com/city/indore/super-corridor/articleshow/68638599.cms