INDORE: IDA TO RAISE MP'S FIRST 25-STOREYED BUILDING AT SUPER CORRIDOR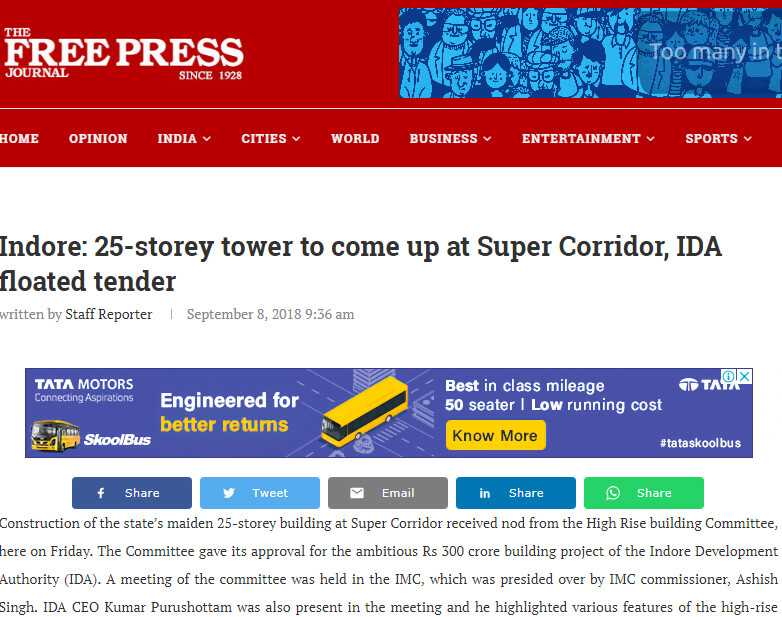 Construction of the state's maiden 25-storey building at Super Corridor received nod from the High Rise building Committee, here on Friday. The Committee gave its approval for the ambitious Rs 300 crore building project of the Indore Development Authority (IDA). A meeting of the committee was held in the IMC, which was presided over by IMC commissioner, Ashish Singh. IDA CEO Kumar Purushottam was also present in the meeting and he highlighted various features of the high-rise tower.
Besides joint-director, Town and Country Planning Rajesh Nangal, PWD superintending engineer, officials of fire brigade department and Discom were also present in the meeting. Detail information about the project was given by building architect KK Doshi of the Doshi and Associates.
Purshottam said that this would be the tallest building in the state with a height of 75 meters. A mall, IT company and others will come up in this building. It is also proposed that there will a five-star hotel on the 5th floor.
Talking to Free Press, Shankar Lalwani, IDA Chairman, said construction of the building would start soon as we have already floated tender for the building. It may be noted that the IDA Board had already approved the proposal in its meeting held on July 25, this year. Purushottam, CEO of the IDA, said: "We are in the process of bringing a bond of Rs 500 crore for the development of Super Corridor. Out of this amount, Rs 300 crore would be spent on this building.
Unique features of building
-The building will be of 75 meter
-Entire building will be constructed on green concept and less use of electricity.
-There will be a 6-story parking lot– 3 underground and three overground. Solar power will provide it power.
-There would be 5000 sqf open commercial space.
-On 4th floor, there will be gym and recreational center.
-The 5th floor would have a food court and two big conference halls.
-There will be 2 open terrace.
-The booking price of the space would be Rs 4,400 per square feet.
Source :
https://www.freepressjournal.in/latest-news/indore-25-storey-tower-to-come-up-at-super-corridor-ida-floated-tender/1351885