Tips for selling your home faster in 2023
.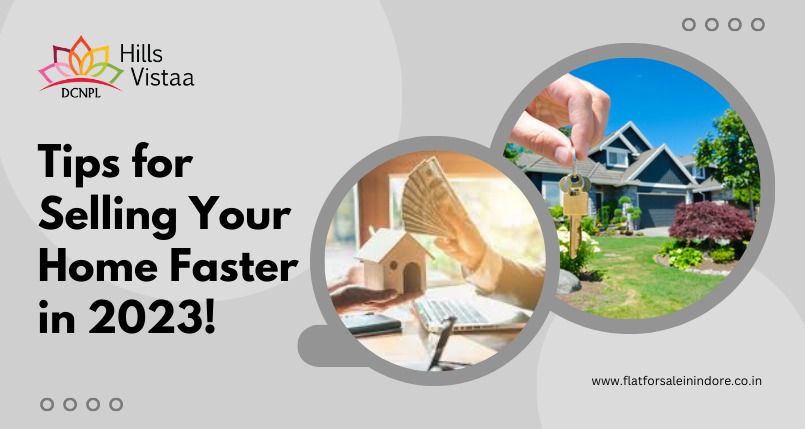 It could take months to sell if you do not adopt the necessary measures after listing your home. But what if you have an emergency and need to sell your home immediately? Don't worry. We've got this! Our real estate specialists at DCNPL Hills Vistaa have discovered ways to accelerate this process and have compiled the top suggestions to sell your home quickly. Read on to discover.
1. To sell your home faster, list it online.
One of the greatest ways to sell your home quickly is to market it effectively, and advertising your property online is the ideal way to do it. Home listing sites not only simplify the sale process but also attract those who are actively searching for a new home. For example, DCNPL Hills Vistaa's seller portal makes it quite simple to sell your home online.
2. Know Your Neighborhood for Better Insights
Knowing your neighbourhood and comprehending its market structure is essential if you want to sell your home quickly and for a fair price. It will also enable you to effectively express the benefits of the locality to the possible buyer, resulting in a faster sale.
3. Setting a reasonable rate will help you sell your home more quickly.
If you overprice your house, it could be on the market for several months! However, if you determine the price too low, it will sell quickly but will eat into your profit margin. This is why. You must set a competitive sale price to earn the correct profits when selling your home quickly.
4. Repair and brighten up your home
Among the best ways to sell your home fast is to consider making it as appealing to buyers as possible! Make your property appear spacious and inviting so buyers can picture themselves living there. Tidy up, make repairs as needed, and maintain your home tidy.
You must heed your buyer's desires and honestly demonstrate how your home can meet their requirements. This might be as basic as emphasising amenities you believe the buyer and their family would prefer. If you know the family includes a senior citizen, you could advise that the complex contains an elderly club or a massage route. If the family has children, you could recommend reputable schools. Want to learn more about selling a house? Contact DCNPL Hills Vistaa.