Madhya Pradesh Will Have A Very Important Role In Building A Developed India: PM Modi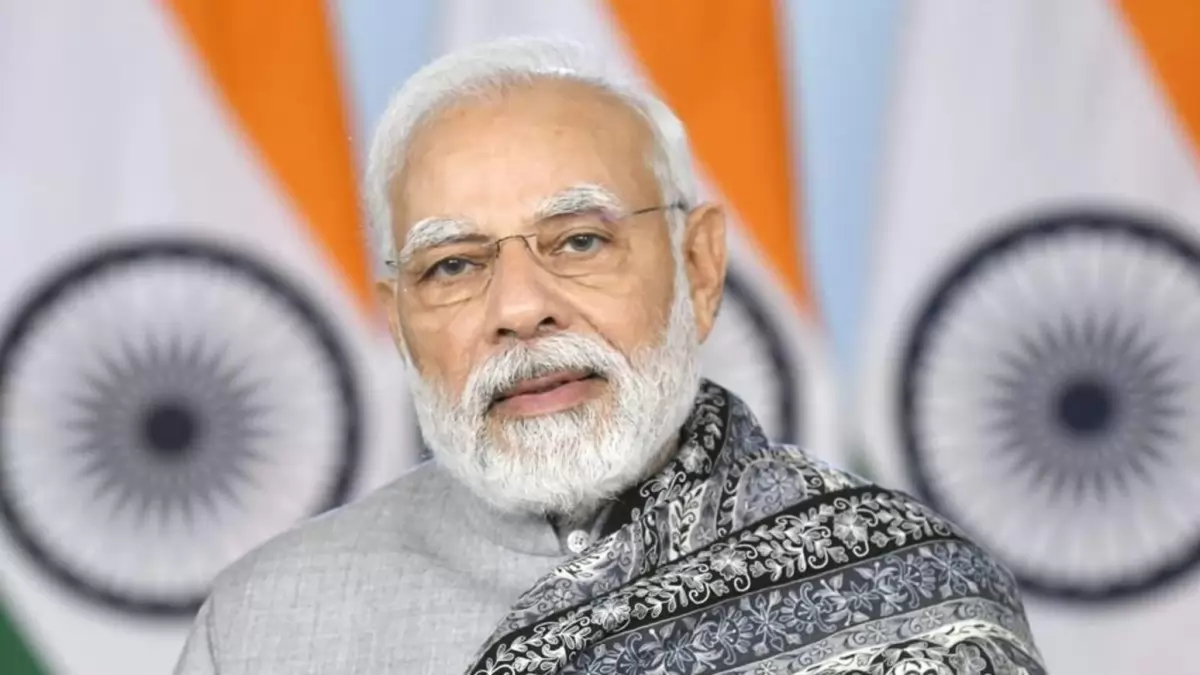 From faith, spirituality to tourism and from agriculture, education to skill enhancement, Madhya Pradesh is extraordinary as well as amazing and aware. Madhya Pradesh will have a very important role in building a developed India, PM Modi said.
Highlighting the importance and ease of doing business in India, Prime Minister Narendra Modi said that 7th edition of 'Invest Madhya Pradesh-Global Investors Summit' was happening in Madhya Pradesh at a time when India's Azadi ka Amrit Kaal has begun.
In such a situation, the strength and determination of Madhya Pradesh will play a pivotal role, the Prime Minister said.
From faith, spirituality to tourism and from agriculture, education to skill enhancement, Madhya Pradesh is extraordinary as well as amazing and aware. Madhya Pradesh will have a very important role in building a developed India, Modi said.
Giving a new slogan for the state, Modi said MP Azab hai, Gazab hai and Sazag hai (MP is strange, wonderful and aware). "Madhya Pradesh's role in building a developed India is very important, said Prime Minister while virtually inaugurating the Global Investors Summit at Brilliant Convention Centre in Indore.
Prime Minister Modi said that not only every Indian, every organisation of the world, every expert of the world is looking at India's growing economy as a shining star in the global economy. Our strong macroeconomic fundamentals are capable of leading the world. Today India is the fastest growing economy of the world. In the next four to five years, India will be the third largest economy in the world. On the global stage, not just this decade but the century belongs to India.
Prime Minister Modi said that today India is the centre of attraction for investors from all over the world. The reason for this is their indomitable faith in India. India has powerful democracy, youth power, political stability, fast decision making ability, ease of living, ease of doing business. India is moving on the path of Reform, Transform and Perform. There is an unprecedented pace of development in India. From the year 2014, we are moving towards self-reliance at a fast pace.
Prime Minister Modi said that India has all the necessary facilities for investment, National Single Window System is in place, labour laws have been simplified, various restrictions have been removed, it has modern and multi-modal infrastructure, most competitive logistics market in the world, logistics policy has been implemented, there is optical fiber in every village, there is 5G network, the speed of our national highways has doubled in the last 8 years, the number of operational airports has also doubled, we have a dedicated industrial corridor, there are expressways, logistic parks, our port capacity has also increased. PM Gati Shakti National Master Plan is the national platform for infrastructure development. Recapitalization of the banking sector has been done, there is One Nation One Tax, 100 percent FDI is allowed in many sectors. Prime Minister Shri Modi said that New India also has full faith in the strength of the private sector. Now the doors of private sector have also been opened for defence, minerals, space science sectors. All these will boost the pace of our development and give new strength to Make in India.
Prime Minister Modi said that the Promotion Linked Incentive Scheme (PLI) has been implemented for investors in India, which is becoming very popular. So far, two and a half lakh crore incentives have been announced in this scheme, production of four lakh crore has been done and hundreds of crores have been invested in Madhya Pradesh also taking advantage of this scheme. Prime Minister Shri Modi asked the investors to take maximum advantage of this scheme.
Prime Minister Modi said that work is going on at a fast pace in India regarding green energy. Recently the Green Hydrogen Mission has been launched, in which there is a possibility of investment of 8 lakh crores. This is a very ambitious mission, which will meet the global energy requirement. Join this and take advantage of incentives worth thousands of crores.
Prime Minister Modi told the investors that many new possibilities are awaiting you in the field of investment. It is time to build a new global supply chain with India. Invest in India progressively.
The important meet is attended by President of Guyana Dr. Mohammed Irfan Ali and the President of Suriname Chandrika Prasad Santokhi. Earlier, Madhya Pradesh Chief Minister Shivraj Singh Chouhan welcomed the guests. Union Minister of Commerce and Industry Piyush Goyal delivered a virtual address from New York. Prominent investors also expressed their views regarding investment in Madhya Pradesh.
In his address, President of Suriname Chandrika Prasad Santokhi said that the Prime Minister of India Modi is working with the spirit of Vasudhaiva Kutumbakam. With the improvement in the economy, work is being done in various areas. India is leading. Suriname will have bilateral co-operation with India in various fields.
The President of Guyana Dr. Mohammed Irfan Ali said that he was happy to visit Madhya Pradesh and meet the Chief Minister of the state Chouhan. The pace of development has picked up in Madhya Pradesh due to good governance and good policies. He had a first hand experience of the cleanliness and beauty of Indore city. Due to these specialties, many industries are coming up in Madhya Pradesh. Guyana will also become a partner in industrial development. President Ali noted Guyana's emergence as a cricketing hub.
Will allot land for industries in 24 hours: MP CM
Speaking on the occasion, Madhya Pradesh Chief Minister Shivraj Singh Chouhan said that this summit being held in Indore is truly global.
In this summit where the Presidents of two countries Suriname and Guyana have come, Finance Minister of Mauritius, Commerce Minister of Bangladesh, Mineral Minister of Zimbabwe have also come in the summit. Representatives from 33 countries of the world have come. A total of 431 delegates from 84 countries have come. Today there has been a special discussion about the specialties of Madhya Pradesh. Chief Minister said that industrialists have become familiar with the environment prepared for industries in Madhya Pradesh.
Chief Minister Chouhan said that once Madhya Pradesh was a sickly state. When Indore's super corridor and roads were discussed, I used to compare them with America. Today, representatives of many countries of the world are watching the work done in basic areas including cleanliness. Continuous work is being done for greenery and environment protection. Now wheat and other products of Madhya Pradesh are being exported.
Prime Minister Modi has talked about making an economy of 5 trillion dollars by the year 2026. Madhya Pradesh's contribution in this will not be less than US Dollar 550 billion. There are more than 300 industrial areas in the state. There are many food parks, plastic parks and now medical devices parks are also being developed. Investors themselves have started believing that Madhya Pradesh is favourable from investment point of view. The Pharma sector deserves congratulations, in which it played a role in the interest of the people by continuously working during the crisis of Covid. Continuous work has been done in the state in automobile sector, skill development, information technology, defence sector, renewable energy. Madhya Pradesh ranks fourth in ready-made industry. The goal is to come up to top place soon. Our sisters and daughters are hardworking. They also work in three shifts.
Chief Minister Chouhan said that now the work of setting-up a floating power plant on the water surface of dams has started in Omkareshwar. Chouhan said that the state government will also do the work of providing customised packages as per the requirement of the industries.
I am always available: Chouhan
Chief Minister Chouhan said that he is always available as the CEO of Madhya Pradesh. Time has been fixed for meeting industrialists every Monday. Chief Minister Chouhan said that Madhya Pradesh is the cleanest state in the country and Indore is the cleanest city in the country.
Today the state has moved rapidly towards development. Today the growth rate of the state is the highest in the country. We are moving ahead at a fast pace. Madhya Pradesh has a special place in India's GDP. The per capita income in the state has increased to 1 lakh 37 thousand, but we are not at peace, that's why continuous work is going on in Madhya Pradesh. The state has to be taken forward.
Chief Minister Chouhan said that the demand for land will be fulfilled in 24 hours. There is sufficient availability of land in the state. The work of providing it for the establishment of industrial units will be done on priority. About 2 lakh acres of land is available in the land bank created for Madhya Pradesh industries. There are many minerals in the state. As far as energy production is concerned, more than 25 thousand megawatt of electricity is being produced. Delhi's Metro Rail also runs with the help of Madhya Pradesh's electricity. There is no shortage of water. There is industrial peace. The terror of dacoits has been eradicated from the state. Madhya Pradesh is leading in the country in the field of good governance. Bureaucracy is helpful. Ministers will also co-operate with those who come to set-up industries. There are 11 climatic zones in Madhya Pradesh. It has emerged as the food capital of the country.
Chouhan said that we are witnessing many possibilities in the field of tourism. Whether it is wildlife tourism, heritage tourism or religious tourism. Apprising about several tourist places of Madhya Pradesh, Chief Minister said that the work of rehabilitating cheetahs in Kuno, Palpur was successful. Tourists will be able to see them from the month of February.
Before becoming a Cheetah state, Madhya Pradesh has also become a Tiger, Leopard and Crocodile state. The number of tourists is continuously increasing in Ujjain to visit Shri Mahakal Lok and Shiv Srishti. The guests who came to the summit must surely visit Ujjain.
Joining the summit virtually from America, Union Minister of Commerce and Industry Piyush Goyal said that Prime Minister Modi has worked to Surge the pace of the economy for development.
The work of industrialisation is going on at a rapid pace in Madhya Pradesh. In Madhya Pradesh too, Prime Minister's vision of development with good governance has been implemented on the occasion of Azadi Ka Amrit Mahotsav. Last 8 and a half years have been of development. Today we have surplus power. Along with One Nation-One Grid, the initiative of One Nation-One Law and One Nation- One Tax has been initiated. I am hopeful that Madhya Pradesh will give impetus to the country's economy.
Goyal said that Madhya Pradesh has done important work in ease of doing and other areas. Madhya Pradesh has a central geographical location. One fourth of the country's organic cotton is grown in the state. Madhya Pradesh's contribution in the renewable energy sector is 20%. Now work is also being done under the Green Hydrogen Mission. Madhya Pradesh is also making a mark in the field of wildlife tourism. The Prime Minister has considered Madhya Pradesh as a state capable of realising possibilities in tourism, pharmaceutical, information technology, agriculture and textile sectors. Goyal also urged industrialists and investors to invest in Madhya Pradesh.
Speaking on the occasion, Kumar Mangalam of Aditya Birla Group said that the geographical location of Madhya Pradesh makes the state suitable in all respects from investment point of view. Our group has historical relation with the state. The group has an investment of 60 thousand crores in the state. Industrial Policy and Start-up Policy are suitable from the point of view of investment in future.
Accenture's Rita Menon said that the initiative of the state in the field of skill upgradation is commendable. There is a need to develop a suitable environment in the research and development sector.
Partha Mittal of JSW Group said that Chief Minister Chouhan inspired us to invest in the state. Our group has a plan to invest Rs. 4500 crore in the state. Under this, a cement plant is being set up in Panna and a paint unit in Pithampur at a cost of 1500 crores.
Nikhil R Meswani of Reliance Group said that by December 2023, 5G facility will be made available in all the tehsils of the state. Affordable digital facilities will benefit students, farmers and the common people. Reliance Group has so far invested 22 thousand 500 crores in the state and there is a plan to invest 40 thousand crores.
Sanjeev Bajaj of Bajaj Finserv said that the future of Bajaj Group is linked with the future of Madhya Pradesh. We are dedicated to improving the standard of living of the common people of the state.
Vineet Mittal of Avada Group said that the facility of talent pool in the state is appropriate. As a result of the convenience of transportation from all parts of the country, residing in the state is easy for technically skilled persons living in different areas. The environment of the state also attracts people. Our group has decided to invest here in view of Chief Minister Chouhan's commitment to make the state a 550 billion dollar economy.
Pranav Adani of Adani Group said that Prime Minister Modi has created a competitive environment among various states in Ease of Doing Business. Madhya Pradesh is among the leading states in this. Adani Group is going to invest 60 thousand crores. Due to which a large number of employment opportunities will be created. Food parks are being set-up by the Group at Dhar, Guna, Damoh, Ujjain and Indore. Adani informed about the plans of the Group in the field of cement, energy. Adani said that in accordance with the principle of development with goodwill, the Group is also active in the field of education, health and nutrition.
Nadir Godrej of Godrej Group apprised about Godrej Group's activities and future plans in Madhya Pradesh. Firodia of Force Group also addressed the programme. Industrial Policy and Investment Promotion Minister Rajvardhan Singh Dattigaon proposed vote of thanks.
Source: https://www.outlookindia.com/national/madhya-pradesh-will-have-a-very-important-role-in-building-a-developed-india-pm-modi-news-253055